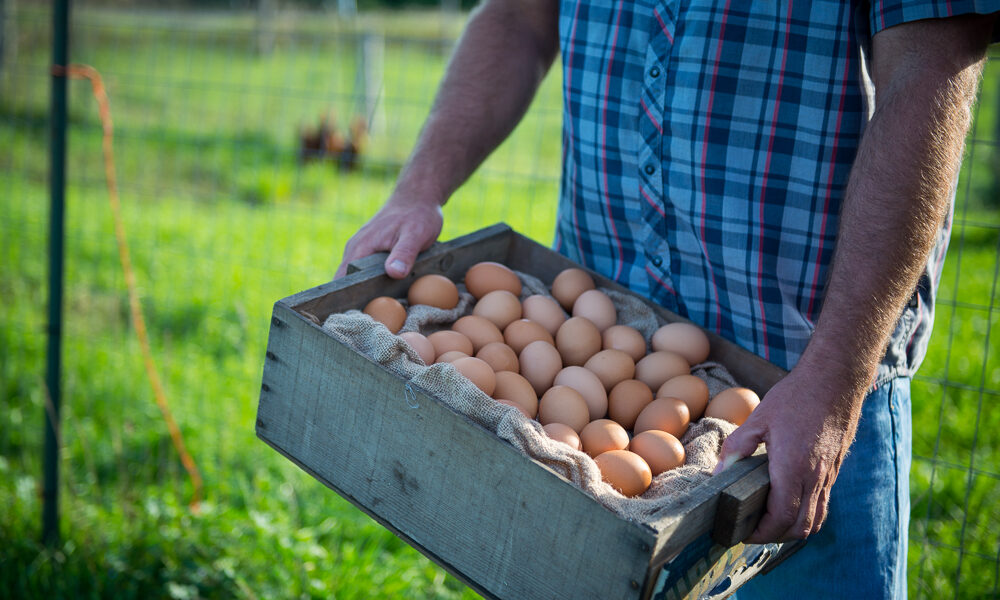 How It Works
Create a free account in The Grass Feather online store.
Select a pick up location near you or choose "Delivery" and your order will be delivered to your home for a small fee.
Place an order directly with The Grass Feather via our online shopping cart. (There is no minimum order) You will receive an order confirmation but your card WILL NOT be charged until we pack your order.
We put your order together here at the farm.
Once your order is ready you will receive an email with the exact price of your order and a payment link. Your delivery/pickup instructions will be included in the email.
We swap the meat from our cooler to yours if at a pickup site or leave for you at your home. Many times we ask that you leave a cooler outside so we can drop your order there. Bundles come in their own box with cuts individually packaged and frozen.
NOTE: In order to cover Fuel and Labor cost there is a $.15/ LB delivery and $3.50 handling charge per order. (Fees are capped at $20)
Workplace locations make for great drop off sites. We can arrange to drop off toward the end of the day so it is more convenient for you.
Tips & Policies!
A little advice goes a long way
Mark Calendar!
Be sure to mark your calendars for your order pickup date and precise scheduled pickup time. We will communicate our delivery day if you chose "delivery"
Pay Before Pickup
Once your items are packed and weighed we will email your final total with a link to pay online with Credit/Debit Card. Please be sure to pay before pickup/delivery as we cannot release orders until fully paid.
Estimated Pricing
Keep in mind that since many of our items are sold by the pound, your final total may be a little more or less than the estimate we provide at the time of placing your initial order.)
Short Stock Items
Please understand that The Grass Feather is a small farm not a large warehouse. In the event that an item becomes unavailable, the amount will be deducted from your final total and any associated delivery fees will be adjusted. If a product shows zero stock you can still order most of the time. We do not stock every single item but are happy to source when we have orders.
Cancelations & Missed Pickups
ALL orders require a 48 hour cancelation notice prior to your scheduled pickup/delivery time. If you are unable to to either pick up your order or notify us 48 hours in advance of your cancellation we will charge a $20 restocking fee.
Ordering FAQs
How do pickup/delivery days work?
If "delivery" and you do not expect to be home leave a cooler outside so we can drop your order in it.
Arrive at pickup location at your scheduled time. You will be greeted by our farm's friendly delivery driver. (If several customers arrive at once you may have a short wait.)
Provide the name on your order and we will locate your order on our truck and transfer it to your vehicle. (We will have your order in boxes so you will not need coolers unless you are traveling more than an hour.)
Take products home and prepare with tender love and care. Enjoy!
How do I add to my current order?
Please contact sales@thegrassfeather.com and we will be happy to add to your purchase.
Accepted payment methods?
We accept all major credit/debit cards as our sole payment method at drop off locations and cash and/or check at the farm store. We will email the final total for your order with a link to pay 12-48 hrs prior to pickup.
Is there a delivery fee?
In order for us to help cover fuel and labor cost all orders incur a $3.50 handling charge and 15¢/lb delivery fee. (Fees capped at $20)
What exactly is a Pick up Location?
Pick up Locations are simply places where we meet you with your order. Many times each location is organized by a volunteer Location Leader who helps organize and facilitate each delivery. Our deliveries take place at home driveways and permitted business or church parking lots. Very small drops may take place at a common parking lot or convenience store. (Choose "Delivery" and we will drop your order off right to your house!)
What should I bring on pick up day?
We encourage you to bring a copy of your payment receipt or have it accessible on your phone. This can help speed up the process.
Can a friend pick-up my order?
Yes, however just be sure you have logged in and paid for your order prior to pick up.
How is my order packaged?
All meat items come individually packaged and frozen.
Your items will always be packed in boxes or bags for your convenience.